How to Install a Snow Plow on a Truck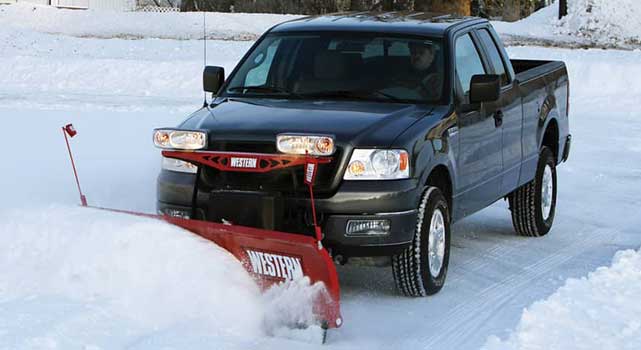 For owners of full-frame pickup trucks and SUVs, there are several of advantages to be had by installing a snow plow. It will be much easier to clear out your own driveway as opposed to getting outside and running a snowblower or worse, shoveling by hand. This is especially true if you live on large plot of land such as a farm or ranch with extended driveways. Another positive would be the ability to get the job done yourself and not have to rely on municipal services and their schedules; if you live in an area that's outside of the major town/city resources, said-municipal services may or may not even be available to you. Plus, there's the satisfaction of doing good for your fellow human by helping to clean up and remove snow and ice from your neighbor's driveways, thus reestablishing a friendly community where everyone helps each other out.
The idea most people have about snow plows is that they're heavily-advanced machine components that require a specialized shop or mechanic to assemble and install. However, the truth of the matter is that the most popular type of snow plow is the good old-fashioned hitch-mount variety that can be done by practically anyone with a quality set of tools and some patience. We've got 7 easy steps to follow that will help you install a basic hitch-mounted snow plow to your pickup truck or SUV.
#1: MAKE SURE YOU HAVE THE APPROPRIATE FRONT HITCH HARDWARE
Hitch hardware kits include all the necessary nuts, bolts, mounting plates, and fish wire in order to secure the hitch to your front end. Not all plows include these hardware kits as standard, so it's important that you have these pieces ready for when it comes time to install. Also, keep in mind that you will be installing your front hitch through the truck frame, not the bumper. This is why installation of a plow onto the more mainstream car-based crossovers (CUV) or pickup trucks that employ passenger car-type unibody construction are not recommended for plow work. Full-frame pickup trucks and SUVs are far better-suited to handle rigorous operation and performance versus a CUV which, for the most part, has the look of a truck but is intended mainly to be a street car.
#2: ASSEMBLE THE BOLT PLATE
Thread a bolt through one of the bolt plates from your hardware kit and attach the fish wire to the end of that bolt. The fish wire will act as a guide to help you install the mounting bolts onto the frame.
#3: THREAD THE WIRE THROUGH THE FRAME
Like threading a needle, feed the fish wire through the exposed end of the frame to the hole located just above the front sway bar bracket. Pull the wire through the hole.
#4: PULL THE BOLT THROUGH AND THREAD THE WIRE THROUGH THE HOLE IN THE HITCH
The bolt should be able to pass through the frame hole. If not, you may need to use another set of bolts that will fit. If you need to do this, make sure you also pick up some extra washers and locking nuts to accommodate the proper size. Pull the wire through the receiver hitch's mounting tab. Do this to both sides of the receiver hitch.
#5: PULL THE BOLT THROUGH THE FRAME HOLE AND HITCH MOUNTING HOLE
Secure the hardware with a wrench, socket, or impact driver. You want the mount to have zero movement that could potentially cause vibrations which will damage the plow and the truck frame. Hand tighten the mounting nut, but take caution to not push the bolt back into the frame.
#6: REPEAT THE PROCESS ON THE OPPOSITE SIDE
Naturally, if you worked on the left side of the truck first, move on over to the right and vice versa.
#7: INSERT THE PLOW MOUNTING BAR INTO THE RECEIVER HITCH
The plow will include hardware to fasten the plow onto the hitch. Use any and all fastening hardware to ensure a solid and secure fit.
If your plow is of the mechanical type, your job is finished! For electric-controlled plows, refer back to your plow's owner's manual. Every plow manufacturer has their own set of detailed instructions according to their individual models and not all of the steps can shared between different applications.
TIPS
*Depending on the specific model and trim package from the manufacturer, your light-duty pickup truck or SUV can most certainly be used for non-commercial snow plow work. On the other hand, this can be a rather strenuous activity almost akin to off-roading and other performance truck activities. You may wish to equip your vehicle with extra aftermarket accessories and performance parts to better fortify its structure and mechanicals. Also, if your truck model is designed more towards street performance (low profile high performance tires, lowered ride height, rear-wheel drive only, etc.), you're going to want to avoid using it for this purpose. Sports trucks have their all-terrain and off-roading capabilities reduced (if not, virtually removed) in favor of dynamics that are more akin to a sports car.
*Trucks with specialized off-road performance packages typically include all-terrain or mud tires. These may be acceptable for light off-roading and for everyday use but if you're going to be tackling heavy snow and hazardous Winter weather conditions, it's best to replace them with dedicated snow tires.
*A plow will add weight to the front end of your truck or SUV. You might want to consider installing additional frame supports and reinforcements, as well as addressing the stock suspension components to handle the extra load.
*Brakes are obviously a very important component, but treacherous Winter conditions coupled with the additional front end weight and extra usage that comes with a plow, you should probably upgrade the factory stock brakes on your pickup or SUV. You don't need to go super crazy with racetrack-purposed big brake kits with 6-piston monobloc calipers and two-piece rotors, but you should look into investing in heavy duty rotors and performance brake pad compounds designed for commercial/fleet use or severe duty.
*Plow work can be physically taxing on your engine, transmission, and driveline components. Consider installing additional coolers for the engine oil, transmission, steering, and differential(s).
*Last but not least, the most critical piece in prepping your vehicle for plow work is to make sure that you've done your regular routine service and maintenance. Changing the oil, checking the belts and hoses, addressing the proper fluid change intervals, even checking your tire pressure can make all the difference in the life and longevity of your truck.
Discount Starter & Alternator is here to help snowplow drivers and operators with our selection of maintenance and repair parts for leading manufacturers such as Meyers, Fisher, Western Products, and many more. Browse our huge online inventory of snowplow parts including augers, springs, cutting edges, hydraulic cylinders, salt spreader motors, shoe assemblies, and more. Shop with confidence at Discount Starter & Alternator.